Disney's 2014 hit, Big Hero 6, is getting a sequel but not like you thought. Big Hero 6 will be getting made into an animated series which will be a direct sequel to the movie. Walt Disney Studios has announce that the Big Hero 6 Animated Series is being made by Man of Action and will see the return of many of the original movie's voice cast.
The series will see the return of Scott Adsit as the huggable robot Baymax (Yipppeeee!); Jamie Chung as the no-nonsense, speed lover Go Go; Alan Tudyk as the tech guru, Alistair Krei; Ryan Potter will be Hiro Hamada; Genesis Rodriguez as Honey Lemon; Maya Rudolph as Aunt Cass; David Shaughnessy as the butler Heathcliff; and the legendary Stan Lee will be in the series as Fred's dad.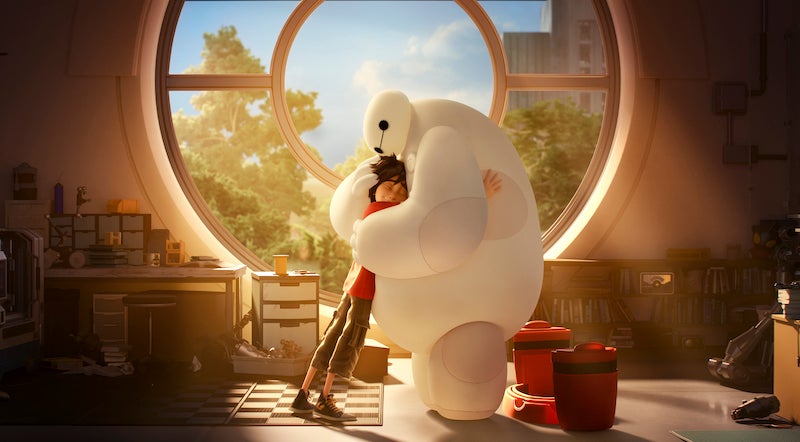 Damon Wayans jr. and T.J. Miller who voiced Wasabi and Fred in the movie couldn't return for the Big Hero 6 animated series. Khary Payton and Brooks Wheelan will be taking their place in the series.
More From Us: Best American Animated Shows for Everyone
The Series will premiere in 2017 on Disney XD. The series will not follow the Big Hero 6 marvel comic series like the movie. The story will continue immediately after the events of the Movie. We will get to see more adventures of the tech genius Hiro Hamada along with his cute and amazing robot Baymax. Hiro's friends Wasabi, Honey Lemon, Go Go and Fred will be reuniting to work with him as the awesome superhero team, Big Hero 6. The long format of the series will help in more character developement as it starts showing the side of Hiro's personal life while he faces several challenges being a prodigy at San Fransokyo Institute of Technology. The Big Hero 6 Stan Lee appearence will also make things interesting
The fans don't have to fear for any reduction in quality as the show's executive producers are Emmy Award winners Mark McCorkle, Bob Schooley and Nick Filippi (they have also worked on the hit disney series Kim Possible). Nick Filippi will also be the supervising director of the Big Hero 6 TV Series.
Are you excited for the Big Hero 6 animated series being the sequel to the Movie and happy about the original voice cast returning? Do tell us in comments your opinions about it.